Design page gallery
Prophecy of the Ancients, by Brower Hatcher
In this stone and steel-mesh sculpture, Hatcher melds the logic of an engineer with a visionary's impulse to transcend time and space. A futuristic dome, made of thousands of wire polyhedrons, rests atop Egyptian columns. An assortment of objects, including a chair, a turtle, numbers and letters, hover within the dome: private symbols that the artist offers for universal contemplation. Source: Walker Art Center website.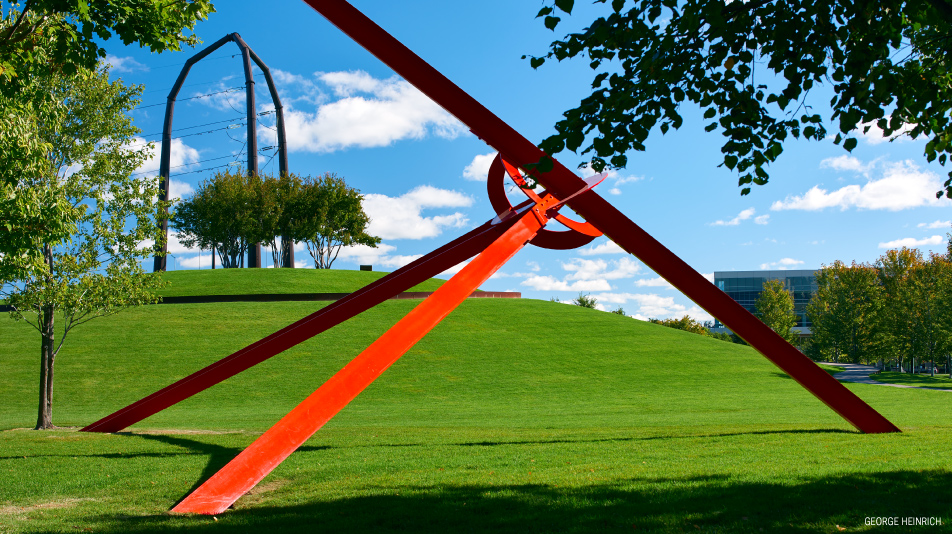 Molecule, by Mark Di Suvero
A pair of enormous, red-painted steel beams meet at their ends, creating an alarmingly improbable triangle. A longer beam forms the third leg of the tripod, jutting some 38 feet into the air. Three flat, centerless discs unify the junction. The effect of this characteristic work by di Suvero evokes the force we attach to the atomic world: dynamic, red-hot, powerful, and strangely elegant. Source: Walker Art Center website.
Ordovician Pore, by Tony Cragg
The scientifically trained artist Tony Cragg transforms two smooth-surfaced, concave, cylindrical forms and two elemental, biomorphic shapes into a complex meditation on time and technology. During the Ordovician geological era, 500 million years ago, oxygen gave rise to terrestrial life, while killing off the algae species that produced it. The cylinders' resemblance to nuclear plant cooling towers may suggest an analogous life-death conundrum. Source: Walker Art Center website.
Luminescent Benches
Twenty custom-designed, handcrafted benches line the edges of the park, creating places to rest, appreciate the view, or enjoy a lunch break. Blue LED lights cause the benches to glow from within, during the evening hours. The effect adds a uniquely ephemeral quality to the park at night. Source: Oslund and Associates, www.oaala.com
Mound with Spiral Walkway
Park visitors reach the 32-foot-high (9.8 m) mound by a spiral walkway, rising out of a green lawn. The mound takes its inspiration from traditional Dakota Indian burial mounds, found throughout Minnesota. Source: Oslund and Associates, www.oaala.com
Nautilus, by Charles Ginnever
The design for Charles Ginnever's mammoth steel sculpture was inspired by one of nature's unique primitive structures: the spiraling, chambered shell of the marine mollusk known as the nautilus. To understand its spatially complex form the viewer must circle around the piece, tracing the spiral motion of the progressively sized chambers to discover the secret of its design: six flat parallelograms, folded at regularly increasing intervals, that are welded together. The changing light and seasons interact with the sculpture's surfaces to create subtly shifting visual effects. Source: millcitytimes.com